Dr. Jessica Brandt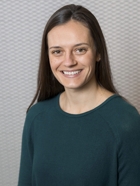 Assistant Professor
Department of Natural Resources & the Environment
Center for Environmental Sciences & Engineering
Office: University of Connecticut U-4087, 1376 Storrs Road, Storrs, CT 06269-4087 (Room #YNG 326)
Phone: 860-486-0139
Email: jessica.brandt@uconn.edu
Education
| | |
| --- | --- |
| PhD 2018 | Duke University; Environmental Health |
| MHS 2012 | Johns Hopkins Bloomberg School of Public Health; Environmental Health Sciences |
| BA 2011 | Johns Hopkins University; Public Health Studies |
Professional Experience
| | |
| --- | --- |
| 2020 - Present | Assistant Professor, University of Connecticut |
| 2018 - 2019 | U.S. Geological Survey, Postdoctoral Researcher |
Research Interests
My research focuses on the fate, flux, and consequences of chemical stressors in aquatic ecosystems. There are three overarching questions that motivate my interest in ecosystem-scale toxicology:
How do biotransported contaminants interact with recipient ecosystems? How will these interactions and the magnitude of subsidy effects change as aquatic habitats are altered?
What roles do ecosystems and aquatic communities play in controlling contaminant distribution, retention, and toxicity risks?
To what extent are contaminant legacies constraining fish conservation efforts?
Publications
Vengosh, A; Cowan, EA; Coyte, RM; Kondash, AJ; Wang, Z;

 

Brandt, JE; Dwyer, GS. 2019. Evidence for unmonitored coal ash spills in Sutton Lake, North Carolina: Implications for contamination of lake ecosystems. Sci. Tot. Environ. 686: 1090-1103.
Brandt, JE; Simonin, M; Di Giulio, RT; Bernhardt, ES. 2019. Beyond selenium: Coal combustion residuals lead to multielement enrichment in receiving lake food webs. Environ. Sci. Technol. 53 (8): 4119-4127, DOI: 10.1021/acs.est.9b00324
Brandt, JE; Lauer, NE; Vengosh, A; Bernhardt, ES; Di Giulio, RT. 2018. Strontium isotope ratios in fish otoliths as biogenic tracers of coal combustion residual inputs to freshwater ecosystems. Environ. Sci. Technol. Lett. 5 (12), DOI: 10.1021/acs.estlett.8b00477
Yang, Y; Chen, B; Hower, J; Schindler, M; Winkler, C;

 

Brandt, J; Di Giulio, R; Liu, M; Fu, Y; Zhang, L; Priya, S; Hochella, M. 2017. Discovery and ramifications of incidental Magneli phase generation and release from industrial coal burning. Nature Communications 8, DOI:10.1038/s41467-017-00276-2
Brandt, JE; Bernhardt, ES; Dwyer, GS; Di Giulio, RT. 2017. Selenium ecotoxicology in freshwater lakes receiving coal combustion residual effluents: A North Carolina example. Environ Sci & Technol. 51 (4): 2418–2426, DOI: 10.1021/acs.est.6b05353